Outcome of Q&A video contest
It took us quite some time to read all of the scripts we received for our new video. We received a lot of scripts and there were a lot of original ideas among them but we had to make a choice. So, after we've spoken with five different could be directors, we've finally chosen the idea of Lucinda Sedoc. In our opinion her script was the most original and also suitable to shoot with mobile phones. The video will be shot under her direction this Wednesday in Amsterdam and will probably air in the first week of February. Stay tuned!
Posted by Perq on January 26th 2009 | link
First of all: happy newyear! It's time for this year's first update. About three weeks ago we ended our European tour with sold out shows in Enschede (Atak), Groningen (Oosterpoort) and Amsterdam (Paradiso). For us this was a very special closure of a very special year in which we did more than 100 shows in 14 countries, including countries like Serbia, Hungary and Japan where we all had never been before. It was quite hectic from time to time but at the same time we're very grateful to have been able to play for such a diverse range of people in so many different countries. Now It's time to go back to the studio though: we will both start to work on solo-projects and besides that our 3rd album is on it's way as well. When, how and in which order we don't know yet but things will get into shape as the year progresses.
On other news we heard that our main photographer and friend Jordi Huisman, who has been following us with his camera for over two years now, has been nominated with his series about us for the international 'Lex van Rossen' photo award. He's the only Dutch nominee of this year's selection. The winner will be announced on January 16th at the Eurosonic Festival in Groningen, where a selection of Jordi's photo's will also be on display. Click here for more info.
Last nut not least we were placed number 28 in the Top 50 best albums of the year of German rock magazine Visions and were placed number 14 with 'Mystery Repeats' in VPRO's 'Song of the Year' list. See you in the new year!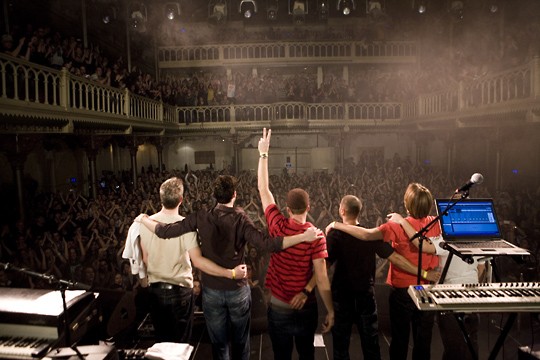 Posted by Perq on January 2nd 2009 | link